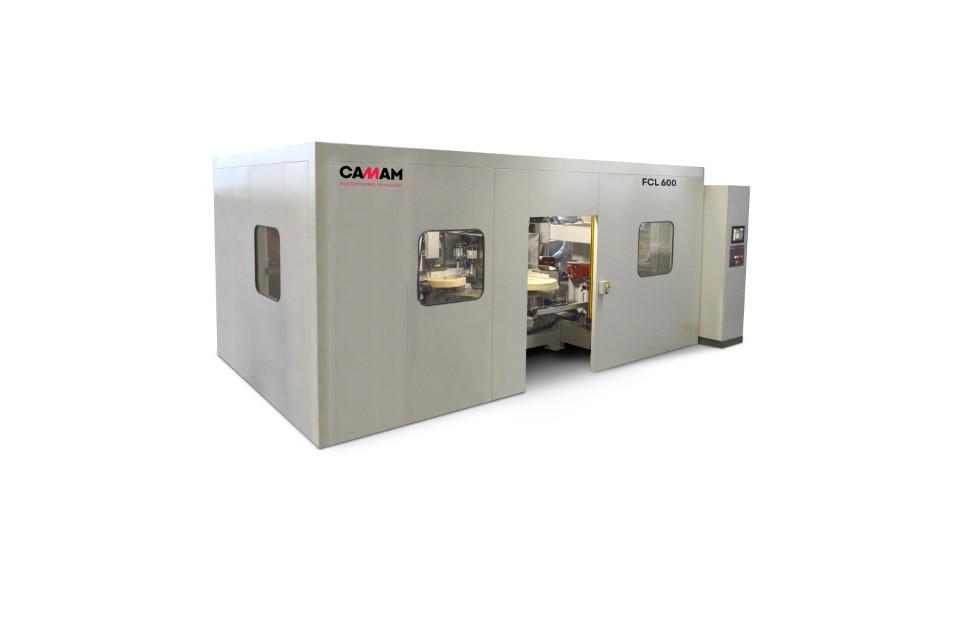 Description and processes
MULTI-STATION, MULTIPROCESS MILLING CENTER with 4 working positions, for automatic milling, sanding and drilling, with multiple operating units.
FCL 600 4S is a special machine with a multi-station carousel working system, a high productivity solution suitable for profiling/shaping and other additional machining operations such as drilling, milling and sanding, on elements up to 800 mm in diameter.
It finds its optimal use in the processing of seats, both circular and shaped, of flanges for cable reels, and of any similarly shaped element.
Strengths
Very high productivity thanks to the carousel system of the workpiece-holding table, which is automatically positioned on several independent mechanical or NC working stations, working simultaneously.
At each station, a different operation is carried out depending on the configuration of the working units. At the end of the process, the elements are unloaded, complete with all necessary machining.
The synchronized automation system manages the machining speeds, optimizing the work cycles.
The large tools that can be installed allow the overlapping machining of several elements per station, thus multiplying the productivity of the machine.
Advantages
High productivity
Very heavy-duty mechanical structure and high-quality components
Wide customization of working units
Fast and accurate set-ups, even automatic
Simplified programming with dedicated software
One operator for loading/unloading
Possibility of insertion in automatic cells, with robot for loading/unloading
Proven technology for industrial use, even over more shifts
Efficient cleaning with dust and waste containment and collection.
---
Request
information
Contact us for any information, clarification and specification on our products and services.
T. +39 0432 740319
info@camamsrl.it